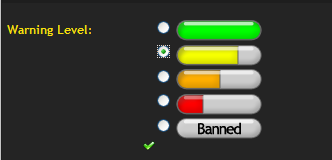 Step 1: Moderators, if you want to give a member an infraction point. Click on the person profile.
Step 2: Then on the left view you should see a Warning Level. >>Click it<<.
And that infraction system should pop-up as shown above
3. If a member has a previous infractions earlier, you just keep on adding up until they either get permanent ban or their warning is expire.
How infraction work:
1. There are from 1-10 infractions point. 1st warning is just a warning. 2nd Warnings warn you that the 3rd one will get you couple days tempt ban. Etc. after you reach 10 infractions point you will be permanent kick.
Last edited by iReject on 29/7/2009, 12:31 pm; edited 1 time in total